Promo videos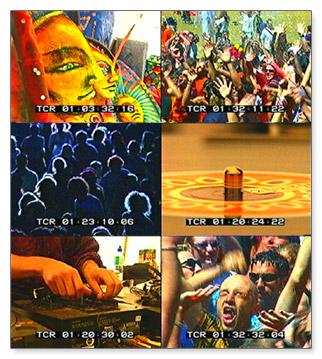 Promo videos for The Gathering, Omnivore, ONE and World Without Strangers.
Working dates: July 1995 - September 2000
I've collaborated on a number of promotional videos with various people over the years. It seemed a natural thing to do, as we have almost always filmed the large events we've organised.
My roles included:
Producer
Director
Coordinator
Assistant editor
I've listed these in chronological order, as one event often led to the promo material for the next:
World Without Strangers - October 1995
We started off by making a whole heap of videos which accompanied our songs during the show. World Without Strangers achieved the first New Zealand internet broadcast of an entire show and the world's first live internet broadcast to Antarctica, and we filmed the first performance using VHS and SVHS cameras. It's great to watch it now as a little piece of history - although I generally fast-forward the bit where I sing... Find out more World Without Strangers
ONE - March 1996
Using the footage from World Without Strangers I worked with my friend Roland Ebbing (who was at Film School at the time) to create a 6-minute promo video for ONE. He edited, I watched.
ONE was filmed by a crew of 4, using Beta SP and SVHS cameras borrowed from Rocket Rentals. Again, we screened a number of videos we had made to accompany the show. ONE was also recorded onto ADAT and mixed live by Rob's old mate Paul Crowther from Split Enz. We broadcast the day's events and the all-night dance party live to the internet, with the help of Bill Ryder from Silicon Graphics. Find out more about ONE
Omnivore - March 1997
When the concept was still that of a large-scale multimedia event based around his play, Gary Henderson and I directed a short promo video for Omnivore, starring Jed Brophy. I was then invited to watch Peter "Po" Metcalfe (from Blue Bicycle Flicks) edit the video. Po was great - I actually had no idea what a well-respected editor he is, so I just sat there and made suggestions (knowing almost nothing about editing!), and we ended up working on it together.
I had my first taste of Photoshop when Peter went out for an hour or so, having just created an omega symbol on-screen. I played around with the image and ended up creating a swirling animation, which we used at the start of the video.
After we decided to downscale the production to a dance party only, Po and I made a new promo video, using footage I had shotlisted and selected from ONE. Again, I worked alongside him to create the video, learning heaps, and this time playing a larger role in the cutting and editing process.
We once again filmed the party using Beta SP, and broadcast it live to the internet. Find out more about Omnivore
The Gathering 97/98 documentary
Images from this documentary have been used in many TV programmes since it was made. It proved an invaluable tool in promoting subsequent Gatherings, and was also sometimes utilised by TV as general "rave" footage.
I took it on tour around the country, where it played to packed houses, and we also screened it at dance parties (including The Gathering). I guess I've personally shown it to around 3,000 people - and I still get teary-eyed as the credits roll.
The footage was also used to create the TV ad for the first Gathering CD, the production of which I oversaw. The following year it was used again for the second CD's TV ad.
In October 1999 I shotlisted 5 minutes of footage from the documentary, and worked with my friend Dave Joyce to edit this into a (mostly silent) showreel. This accompanied my stage presentation for the TV3 Pitching Competition at the New Zealand Film and Television Conference. I won first prize of $6,000, which we used to make the G2000 documentary. Find out more about The Gathering 97/98 documentary