G2000 documentary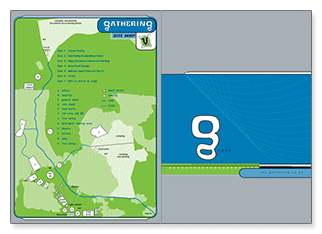 Full-length documentary, shot on BetaSP and SVHS.
Working dates: November 1999 - present (or whenever we get around to finishing it!)
After a break of two years, Kylie Plunkett (the director) and I decided to make another documentary. For the millennium documentary we went under the name of Freak Productions, and it was certainly a freaky event....
Quite by chance, while talking with Dave Gibson about how the Gibson Group might be involved, I found out about the TV3 Pitching Competition at the New Zealand Film and Television Conference. With a week to go, I entered the competition, and with the invaluable help of my editor friend Dave Joyce I made a 5-minute showreel to go with my presentation, using footage from the first documentary. I won first prize of $6,000, which we used to fund the production, together with the $2,000 we had made selling copies of the first doco.
My roles included:
Our plan was initially to focus on the large number of musicians at The Gathering who play live electronica. How do they create their music? Is there an indentifiable genre of South Pacific electronica? What makes The Gathering a special place to play? We also wanted to talk with Gatherers about what we were doing right - why is our party so popular, and what makes it so special?
However, the dramatic turn in the weather meant that there was a story to tell there too - so it'll be interesting to see what tale finally emerges from the raw footage in the editing suite. It's an aspect of editing that fascinates me - the fact that 5 different editors could create 5 different stories from the same raw footage - and it's something I'd love to pursue someday.
The completion of this documentary was on hold for a while, as Kylie got work on the Lord of the Rings trilogy as camera trainee/loader with Peter Jackson, so she was quite busy for a while. We always planned to revisit the documentary and get it finished, but it hasn't happened so far. Maybe one day!
My responsibilities included:
Helping Kylie to collect together her crew and equipment
Development of initial concept with Kylie
Providing the funding and managing the finances
Liaising with 173 DJs, 76 live acts, 208 performers and 40 VJs to get their permission to film them at The Gathering
Helping with the initial rough edit
...and I'm sure there will be more to come.
We wanted to take this movie to international film festivals, having completely failed to get off our backsides and do it for the first documentary. For this reason, we did not specifically aim it at TV, although TV3 did have first dibs on the finished programme. However, as we rejected their suggestion of following specific groups of Gatherers around the party ("it's too much like the Sweetwaters doco," we said), they probably wouldn't have wanted it anyway, which was OK by us.
We had $8,000 to play with, so it should be a good one... if we ever get around to finishing it!