Omnivore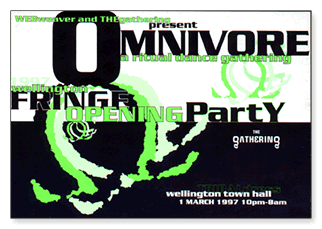 Wellington Fringe Festival launch - a dance party in association with The Gathering.
Working dates: October 1996 - March 1997
Event dates: 1-2 March 1997
Vital statistics: 10 hours, 150 crew, 1,500 tickets sold
My second dance party, again organised to launch the Wellington Fringe Festival, again at the request of Malcolm Turner, Festival coordinator.
....they're out there now, seething, swimming the crowded blue-neon night, these kids with designer skin and thousand-nation eyes, kissed with the heavy scent of polynesia, swept by american cool ....youth as market, lifestyle as product ....gorgeously unaware, dancing smooth-limbed, silicon-nerved on the thin gleaming wire of the future, where heart-stopping technology is a given and information is the only useful power.... listen listen, the birth cry of the new millennium; thank you for flying OMNIVORE....

Gary Henderson, Omnivore
Omnivore was originally planned as a large scale, multimedia, Internet-linked event based around a play by New Zealand playwright Gary Henderson (Skin Tight, Sunset Cafe), which was to launch both the Fringe and Futures Festivals in March 1997.
Gary and I directed a short promo video for Omnivore and I was invited to watch Peter "Po" Metcalfe edit the video at Blue Bike. The Futures Festival eventually crashed and burned, and we decided that Omnivore was just too large a project to attempt without substantial financial backing.
Omnivore therefore became - the dance party. We made a new promo video, using shotlisted footage I had selected from ONE.
My roles included:
Producer
Director
Publicist
Sponsorship liaison
Financial controller
My responsibilities included:
Overall responsibility for the party, both before and during the event
Liaison with my two co-producers (thanks a million to Ben and Kurt - you were wonderful!) to ensure that all tasks were completed prior to the party
Initial development of the concept with a core group of technicians
Organisation of all practical aspects of the production
Negotiation and ongoing liaison with sponsors
Dealing with publicity for the show including writing and producing our press and sponsor kits (including two 5-minute promo videos) and liaising with the Fringe publicist and the national media
Networking and dealing with the needs of the crew of over 150 individuals, including negotiation, mediation and problem-solving
Coordination and organisation of the 100+ Fringe Festival performers who added colour and spectacle to the party
Coordination of the video documentary and internet broadcast teams
Financial management
Liaison and development of ongoing relationship with The Gathering.
Following a series of creative and business differences with my assistant producer, whom I eventually fired, I had found myself without a headline act for the show, two weeks out from the gig. With the help of The Gathering crew (who had heard about my parties and wanted to work with me), we created a legendary event for 1,500, which is still fondly remembered by many Wellingtonians as one of the greatest parties ever. Omnivore was a tough one - with many challenges along the way - but it's still one of the best!
Again, I found my role to be one of organisation and communication, bringing together a very large crew of diverse and multi-talented people - this time from all over the country. Omnivore was a multimedia experience, showcasing Fringe performers (as ONE had done) as well as a huge array of Gathering performers and artists.
The feedback from The Gathering crew was very positive, and it was this show which brought me into The Gathering family, which became a very important part of my life for the next five years.