Meadow Fresh Rainy Day Boredom Buster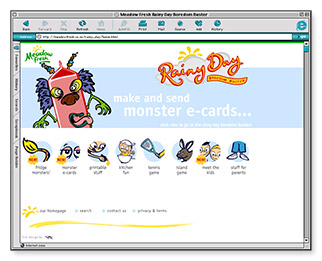 Size: 50 pages
My professional status: employee at Origin Design
Website client: Mainland Milk
Dates: March - November 2003
Categories: Website designer, Front-end developer, Writing for the web, Content-loader, No CMS, Medium sites
Brief: to build and develop/maintain Rainy Day as a sub-site of the main Meadow Fresh website.
My responsibilities included:
Building the site (architecture, navigation, HTML, content layout, graphics)
Redrawing in Freehand the character sketches created by our illustrator Ali Teo - so that I could use them to make animated gifs, graphics and Flash animations
Creating a range of interchangeable and interlocking Flash animations which could be combined and reused on the homepage - promoting and advertising different parts of the site as appropriate
Working with the designer to develop and extend the range of online activities available and coming up with ideas for new activities
Writing the step-by-step instructions for many of the activities - in a way that children of our target audience age could understand and easily follow (aided by my experience as a primary school teacher)
Taking responsibility for the design, graphics and layout of activities pages as we added these to the site, following the design style already developed for the site
Working with the programmer to create interactive Flash games.
I loved this site - it was such fun and the activities were great! I'm really happy that Mainland Milk gave us so much freedom to think up new ideas for activities and that we were able to showcase them so well. I was also able to develop my Flash skills on this site.
Other Meadow Fresh websites
Flash animation