M-co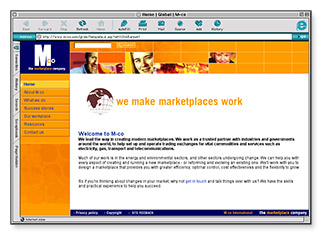 Size: many small projects within this 300-page site
My professional status: employee at Origin Design
Website client: M-co
Dates: July 2001 - November 2003
Categories: Website designer, Front-end developer, Old-school table layout, Flash, Database-driven (pre-CMS)
Brief: to carry out a range of projects which were incorporated into M-co's large database-driven website.
My responsibilities included:
Creation from scratch of a spinning globe which would be made into Flash by Toolbox. This required me to learn to use 3D animation software, to create the globe in this software by fitting a map "skin" over a globe and creating 36 frames showing the spinning globe at different points. I then took these frames into Freehand, coloured them and created another series of Freehand images to incorporate the globe into a larger animation for the homepage. These separate frames were handed over to Toolbox for Flash animation. (2001)
Creation of a number of gif animations for use across the website
Example pages to show client a range of colour possibilities for the new M-co South Africa website
Creation of top-page graphics reflecting the new M-co South Africa website colours
Manipulation of various animated graphics to remove images of employees who had left the company
Photoshop work to create a series of template pages for the re-designed M-co website (2003), following instructions from the designer
Creation of a new spinning globe Flash animation for the homepage of the website - giving the client a range of options to choose from in terms of file size, number of frames, spin speed etc. (2003)
The work I did for M-co took place intermittently over a period of 2 years, and consisted of small projects (generally graphics or Flash) which were incorporated into M-co's large database-driven website. In 2003 Origin completely redesigned M-co's website and I created a series of Photoshop templates to show the client some of the design options available.
Other M-co websites