Wild Workouts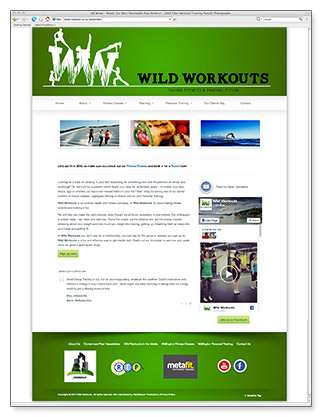 Website: wildworkouts.co.nz
Size: 22 pages
My professional status: independent web designer/developer
Website client: Karen at Wild Workouts
Dates: October 2017 - January 2018, with ongoing webmaster support after delivery
Categories: Scoping/pitching/quoting, Client liaison, Project manager, Website designer, Front-end developer, Content-loader, Webmaster, Responsive web design/dev, CSS-based layout, CSS3, HTML5, WordPress, Small sites
Brief: Wild Workouts is an outdoor health and fitness company run by Duck Patten and Karen van Rensburg. They take fitness outside and make it fun. They have been providing training in Wellington's wild weather since the start of 2010, and are located out and around Wellington as a mobile training outfit. They run fitness classes all over the city, where the emphasis is on getting into the great outdoors and getting fit together. There's no membership fee, and participants simply pay for the group or session they sign up to.
They had an existing responsive themed WordPress website built for them a few years ago, which had become a bit messy. Their contact at the original web design agency had left the company, and they were no longer able to update their website. It needed a tidy-up and for some of the pages to be redesigned and rebuilt so that they looked nicer and were more user-friendly. They also needed some out-of-date content to be updated and changed.
They asked me if I'd be willing to maintain and develop their website - migrating the site to my web host and then taking over webmastery of the site. Initially Karen requested a number of improvements and alterations to the site, and since then we have continued to work together on whatever updates and additions are required.
Achievements:
Successfully migrating the site to my web hosting company
Working through the initial task list and tweaking the design and styling at the same time to improve the look of the website within the existing theme
Reviewing a competitor's website that they liked, and coming up with my recommendations for how they could improve their business going forward - within a limited budget.
My responsibilities included:
Client liaison and project management
Researching and putting together a collection of possible new fitness-related WordPress themes that we could use for a redesign of the website
Carrying out a manual migration to my web host - as the WordPress version the site was running was too old to be able to run the WPEngine auto migration tool
Updating the A record once the site had been migrated
Testing and checking site post migration to ensure that everything had copied across properly and was all working as expected
Exploration of the WordPress theme, making a Staging copy of the site in order to figure out how the theme worked and to identify inbuilt theme functionality that the site wasn't currently using (there was no documentation from the original web design/hosting company and we were unable to contact them)
Carrying out a number of initial updates from the client to quickly improve the look and functionality of the website - including restoring Google maps that had disappeared months earlier, and making updates to the timetables and fitness classes pages
Tweaking the CSS styling for various elements including tables (for class timetables), fitness class thumbnails and section homepage layouts
Sorting out email hosting with Discount Domains as my web host doesn't provide that service
Updating and testing all out-of-date plugins on the site and adding new plugins as required
Organising and installing an SSL Certificate for the site, and switching the site over to https
Testing pages for SSL completeness and that they were working - testing, updating and fixing links as required and figuring out the hidden elements in various pages that were initially preventing those pages from being fully secure
Making a favicon for the site
Installing security plugins to track admin activity and improve security
Reviewing a competitor's website that Karen and Duck liked, from the perspective of how much it might cost to redesign the Wild Workouts site and/or change the WordPress theme
Providing them with a cost estimate for various possible website update/redesign/rebuild options - and recommending that instead of spending their IT budget for this year on a new website, they invest in project management and booking software instead - as it was the manual management of class bookings that was taking up much of their time
Ongoing support, updates and help with the website, as and when required.
I'm really enjoying working with Duck and Karen on their website. Their enthusiasm for helping people to get fit in an enjoyable way is great to see - and quite inspiring. In fact I'm wondering whether I should join one of their classes. The whole "getting out and exploring the beauty of Wellington while getting fit" thing is really appealing.
Their website is fine as it is, for the moment. There's heaps more we could do with it - and perhaps we will at some stage - but in the short term, I felt that the event booking and project management software was much more important. It will provide immediate benefits in terms of the amount of time they spend doing admin and sorting out class bookings - so they can concentrate on doing the active outdoors stuff they love best.