Origin Xmas card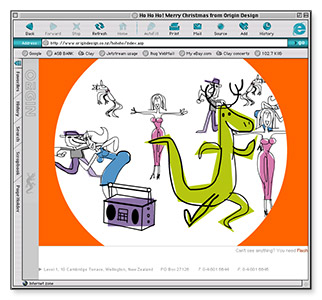 Size: 1 page
My professional status: employee at Origin Design
Website client: Origin Design
Dates: December 2002
Categories: Client liaison, Content-loader, Flash, Database-driven (pre-CMS), Small sites
Brief: to create an interactive Flash Christmas card to be sent to Origin Design's clients.
My responsibilities included:
Development of the animation from initial rough sketches from the designer - adding my own ideas to improve the flow of the "story" - and to make it funnier
Creation of the Flash animation - a complex animation with sound where the file size needed to be kept as small as possible
Sourcing and creating sound files for the animation
Liaison with the programmer who linked the animation to a database of client names. Clients received an email pointing them to a personalised page on the website, where they could view their own version of the Xmas card.
Great fun! Love the illustrations by Scott Kennedy. We had heaps of fun making some of the recordings ourselves, and I sourced other sounds from the web. I loved the challenge of getting the timing right so that the animation not only looked good and flowed smoothly, but linked precisely with the sound files as well.
Flash animation