Murray King & Francis Small Consultancy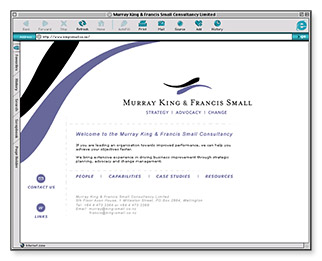 Website: king-small.co.nz
Size: 20 pages
My professional status: employee at Origin Design
Website client: King & Small Consultancy
Dates: May - June 2001
Categories: Website designer, Front-end developer, Content-loader, jQuery/JavaScript, Old-school table layout, No CMS, Small sites
Brief: to build the website following a design by Origin, and to advise the designer on the best layouts to use.
My responsibilities included:
Advising the designer on the best ways to design for the web - as this was one of her first websites
Building the site - HTML, graphics, architecture, JavaScript, CSS.
This website is simple and straightforward, and the design has an elegant, calm feel to it. I made some updates to the site in August 2003.