Early Childhood Education - Information Communication Technology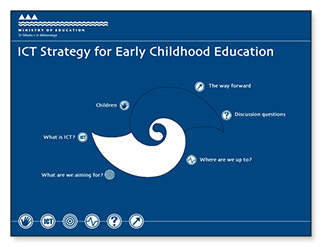 Size: 2 templates, 6 icons, 1 logo
Government status: Government Ministry
My professional status: contractor at CWA New Media
Website client: Ministry of Education - Early Childhood Education
Dates: June - July 2004
Categories: Client liaison, Project manager, Website designer, Writing for the web, Content-loader, Government websites, Small sites
Brief: to develop and design a new logo for the Information Communication Technology project, based on their key words and phrases. To use this logo as the basis of a series of PowerPoint templates. The presentation would resemble a series of webpages and was to be used by the Early Childhood Education section within the Ministry of Education. The design needed to be simple enough for the ECE team to develop, so that they could create new pages when the need arose.
My responsibilities included:
Design of a range of ideas for the logo using the following key words and phrases as inspiration:

organic
evolving
moving forward
changing
challenging
supporting
broadening people's horizons
interconnectedness

Designing the basic page layout for the front page and one inner template
Developing five possible logo designs from my original pool of over 80 ideas, and showing the client how each of these would work within my page layout design
Further development of the client's preferred logo design and refinement of the page layout design
Development of six icons to use as navigation throughout the presentation
Design for image and photo treatment throughout the site
Writing a logo design report for the client, which describes the reasoning and symbolism behind the development of the logo.
This was one of my first logo designs, and I found the whole creative process quite fascinating. I used a matrix approach in the initial development stage and came up with over 80 ideas, from which I selected and developed the best five. The client strongly preferred a design based upon two interlocking Fibonnaci spirals (which was also my favourite) and asked to use a couple of my other designs in other areas of their work.