The Nathaniel Centre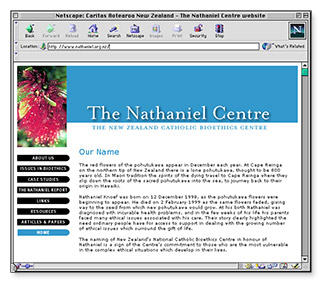 Website: nathaniel.org.nz (site has since been redesigned) - view screenshot
Size: 40 pages, 0.5MB
My professional status: contractor at Base Two
Website client: Caritas NZ
Dates: July - August 2000
Categories: IA & UX, Website designer, Front-end developer, Content-loader, jQuery/JavaScript, Old-school table layout, No CMS, Small sites
Brief: to develop an original design prototype (based on print design for the Centre), to create and build a Bioethics website for The Nathaniel Centre.
My responsibilities included:
Development of site navigation and architecture
Development and expansion of original design prototype by print designer, creation of graphics, rollovers etc
Building site (architecture, navigation, HTML, JavaScript, content layout)
Ongoing liaison with client.
As this site was aimed at a mid-range audience, the navigation and layout was simple and clear. There was a large amount of content on some pages, so layout was also important. The overall look and feel was calm, informative and reassuring.