EEO Trust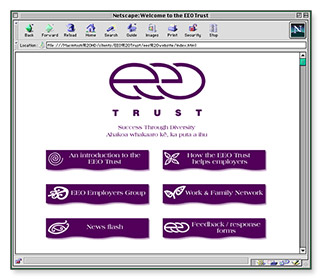 Size: 85 pages, 3MB
My professional status: contractor at CWA New Media
Website client: EEO Trust
Dates: August 1997 - August 1998
Categories: Client liaison, Project manager, IA & UX, Website designer, Front-end developer, Writing for the web, Content-loader, Webmaster, Old-school table layout, No CMS, Medium sites
Brief: to develop, design and build an easily-navigated information-rich website that communicated what the EEO Trust was about, and how it could be of benefit to employers.
I miss our touchbases and your excellent work... It speaks very well of the work you did for our site that people have come to me to ask me who designed our site. If any others do I will certainly send them your way.

Allysa Stewart, EEO Trust
My responsibilities included:
Initial design suggestions and website design (look & feel, architecture, navigation, feedback section, PDFs)
Website development (HTML, graphics and JavaScript)
Ongoing client liaison and project management
Ongoing site maintenance and updates.
This one was cool - because I hadn't designed very many sites from scratch at this point, and it was quite a big one. Great relationship with the client - we worked closely together because they really weren't sure how to go about doing a website so I was able to help with ideas about architecture, content and layout as well as design.