The British Council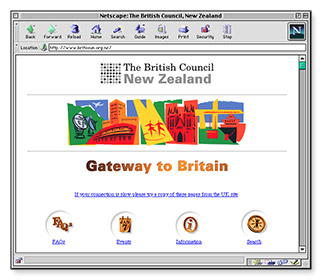 Website: britishcouncil.org.nz (site has since been redesigned) - view screenshots
Size: 100 pages, 2MB
My professional status: contractor at CWA New Media
Website client: The British Council
Dates: June 1997 - May 1998
Categories: Client liaison, Project manager, Website designer, Front-end developer, Content-loader, Webmaster, Old-school table layout, No CMS, Medium sites
Brief: to build the New Zealand version of the standard British Council website, according to strictly-specified design guidelines and templates.
Hasn't Ali done a fabby job? The BC logo in colour and curving in line with the Link Banner looks brilliant! I'm really pleased with the site! Thanks millions.

Dr Michelle McCormack, Science & Development Manager, The British Council
My responsibilities included:
Creation of the New Zealand site following already established design, architecture and layout templates
HTML encoding, graphics taken from bi-monthly newsletter
Development of The Link section using my own design, but in keeping with the rest of the site
Bi-monthly updates
Ongoing client liaison.
This was an interesting one - The British Council had rules about everything on their websites - right down to the use of commas. However, I had more freedom on The Link section, which was fun to do. Nice clients, too - and great feedback from the British Council team both here and in the UK.
Awards
Best National British Council Website
Voted by the British Council team in the UK.